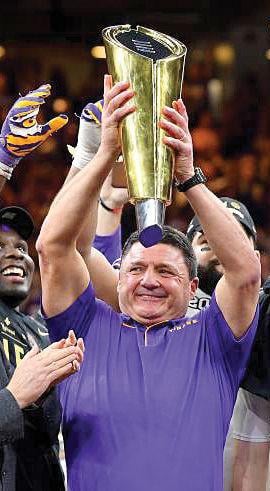 It was just three years ago that a group of local businessmen and LSU supporters got together to celebrate Coach Ed "BeBe" Orgeron being named LSU's head football coach.
Orgeron, from Larose, was a former champion football player at South Lafourche High School who went on to become a star Northwestern State University college player and a highly successful college football coach at several prestigious colleges. But, his dream was to be the head coach for the LSU Tigers.
When that opportunity happened, folks in the south Lafourche area knew that their guy was the right choice for LSU and wanted to celebrate. Coach "O" Day was born. It was a banquet planned for a couple of hundred friends of "BeBe" but more than fifteen hundred people showed up. The event raised thousands of dollars that was donated to local charities, churches, and families in need.
Now, we really have something to celebrate … winning a National Championship for LSU, having a perfect 15-0 season, being named National Coach of the Year, bringing back major team and individual awards including the Heisman Trophy, and having one of the best teams in college football history.
The title of this year's banquet is titled COACH "O" DAY – PROMISES MADE, PROMISES KEPT.
The event will take place at 6:00 p.m. Friday, May 1 at the Larose Civic Center.
NFL analyst Mike Detillier will again serve as master of ceremonies. Guest speakers will include LSU dignitaries, coaches, and a few surprises. Former Tiger and Tarpon Ronnie "Crockett" Estay will be presented a plaque to go on the Wall of Fame at South Lafourche High School during the ceremonies.
Organizers are planning a live auction with autographed items and rumors are that a national championship ring will be auctioned off to the highest bidder. Posters of local football greats and other items will also be available to purchase.
This is a 501-3c event. Funds raised at this banquet after expenses, will be donated to local charities, churches, community organizations, and individuals in need from Valentine to Grand Isle. Coach "O" said he wanted to continue to help the poor, sick, and hungry folks in our area.
The menu for the night will include Blanchard fried shrimp, jambalaya, white beans and rice, pig rotisserie, bread and dessert. There will also be a cash bar.
Tickets, (individual $50), (tables: supporter $1,200, sponsor $5,000), may be reserved by calling 985-691-3577. Checks must be made out to Coach "O" Day, P.O. Box 182, Galliano, La. 70354.