Local lawmakers at the local, state and Federal levels are giddy about funding now being complete to move forward on the project to elevate La. Highway 1 - a project that will greatly help our local economy.
President Donald Trump is apparently pretty pumped up about the project, too.
Trump spoke of the project today on social media, calling it "great news for Louisiana."
The president said the project will protect access to the area against flooding.
See his full tweet below: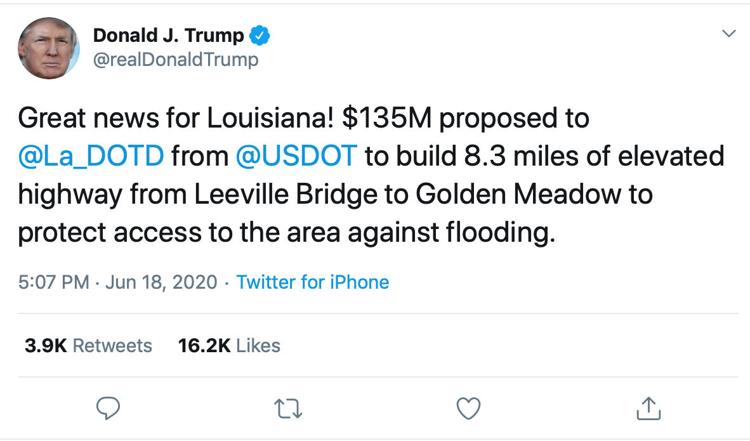 Lafourche Parish President Archie Chaisson recognized the president's tweet and offered his own sentiments.
He said it was the icing on the cake of a good week for Lafourche.
"This week was a pretty great week but to cap it off with a nod from POTUS made it even sweeter!" the parish president said.
State funding is matching federal funding to complete the project.
When it's completed, the road will no longer be overtopped by flood waters, which will make storm evacuation easier, but will also allow people to return to work quicker post-storm, as well.
Tens of millions of dollars of revenue have been lost due to La. Highway 1 being closed after storms in the past.