A local woman was given a prominent title this week, earning the position of captain for one of the most prestigious groups on LSU's campus.
Jenna Bourgeois was named captain of the 2022 LSU Color Guard — the group which performs with the Tiger Band at most LSU football games and other events throughout the course of the year.
Bourgeois said to earn the honor is a thrill, adding that it's proof that hard work pays off.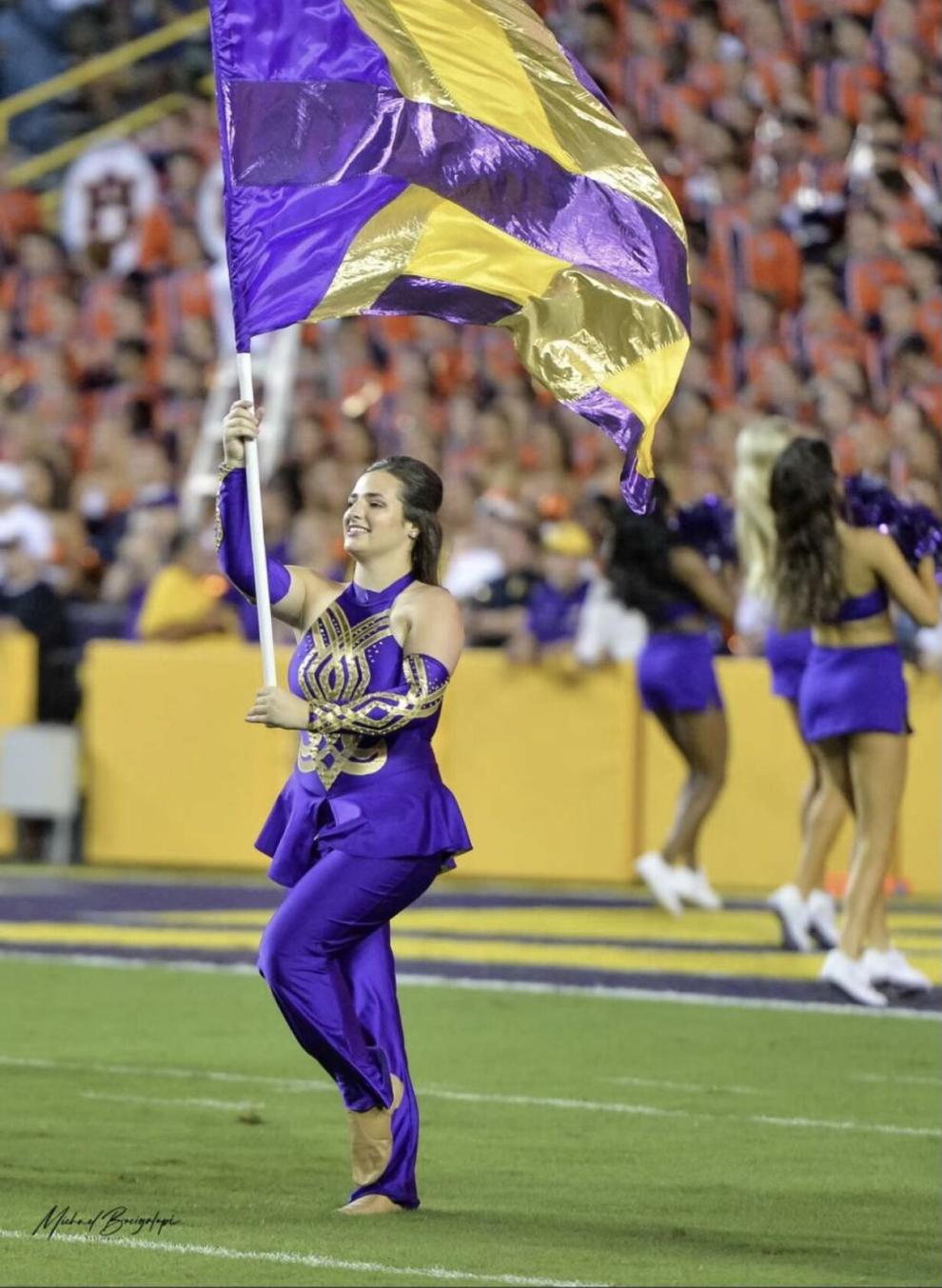 "It is super exciting to be captain of the LSU Color Guard," she told The Gazette. "I've grown so much over the years as a performer and it is extremely rewarding to be named captain of something I've worked so hard at and have loved so much over the years."
To get to this point, Bourgeois has had to dedicate herself to her craft and give up hours of time to continually become more skilled.
She said she's done Color Guard for 6 years — dating back to her time as a 4-year member of the South Lafourche High School Tarponette/Winter Guard.
She then auditioned successfully to become a member at LSU. Her first season, auditions were virtual due to COVID, but she earned a spot on the team. This past season, she re-auditioned in person and re-earned her place.
LSU Color Guard auditions are a long process and returning members have to re-audition each season to keep their place on the team.
Once on the team, the work has only just begun.
"After the initial auditions, you have to attend preseason band camp right before the fall semester starts up," she said. "This is where you learn fundamentals for marching for pregame as well as some things for halftime shows. This is also where the cuts for pregame and the official Tiger Band are made."
Once officially a member, practices are multiple times a week with the Color Guard staying late twice a week to work on rehearsals and choreography, among other things.
To become Captain, Bourgeois had to showcase both her talent, but also her leadership skills.
"For captain, I had to go through a special audition process which included an application, teaching a handful of my teammates a routine I created in front of a panel of the staff," she said. "And it ended with an interview with the staff."
Bourgeois said the 2022 Color Guard is not yet finalized, but that in the coming weeks, she will learn the roughly 30 or so teammates she will be captaining for the upcoming season.
The work is hard and the process is strenuous. But it all pays off on game day, because Bourgeois said performing before 100,000+ people inside of Tiger Stadium is the thrill of a lifetime.
In 2020, COVID restrictions kept the Color Guard from performing in Tiger Stadium. But this past season, they returned and Bourgeois said she will never forget it.
"Being in Tiger Stadium is the best thing ever," Bourgeois said. "I've always loved performing, but Tiger Stadium just makes it so much better because of how lively the fans make it — especially during pregame! It gives me chills every time."
Bourgeois said she is studying Criminology with hopes of someday becoming a family attorney. She is currently enrolled in LSU's 3+3 Law Program.
It's a lot to juggle, she admits.
But she added that when she hears the crowd roar and the band pipe up, it's all worth it.
"I love what I do," she said.