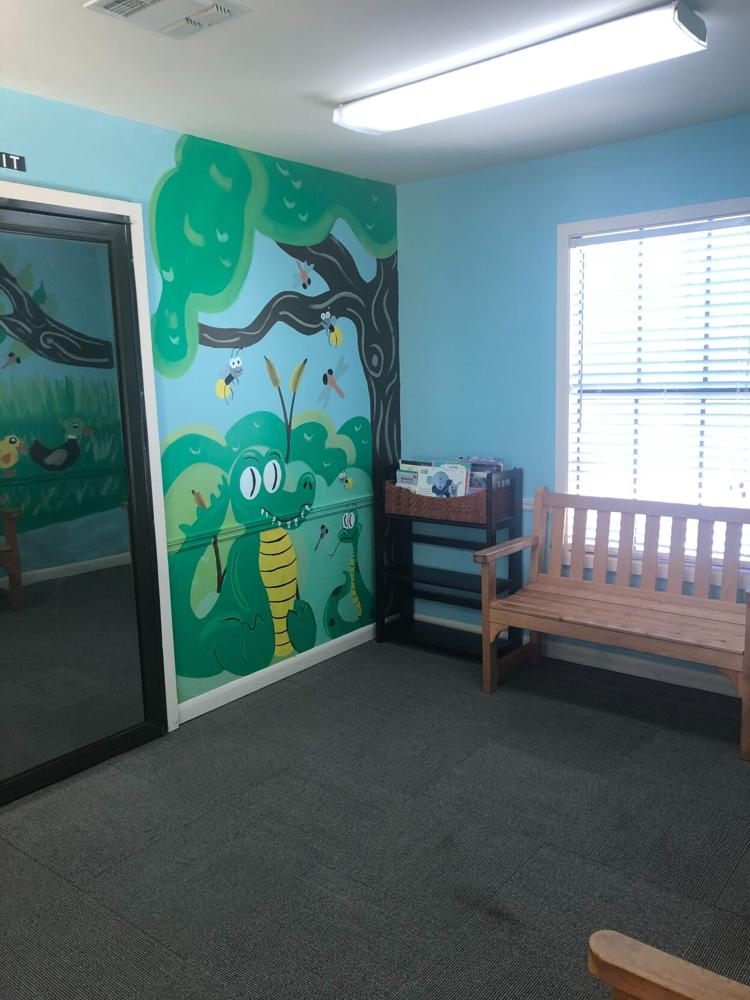 By BRANDY O'BANION-BAUDOIN
Contributing Writer
This past Tuesday, November 17th, under beautiful fall skies, the ribbon cutting was held for the new Children's Advocacy Center of Lafourche Parish.
The previous location for the Center was in Downtown Thibodaux since 2005. The new building is more expansive and has room to grow.
Centers are also located in Terrebonne and Assumption Parishes, calming the hearts of frightened children.
"Anytime a child in Lafourche Parish makes an allegation of physical or sexual abuse we have protocols in place with law enforcement and DCFS and our schools, so that child is not interviewed, they're brought here to our Advocacy Center usually within forty-eight hours. We have a trained forensic interviewer who conducts that interview with that child. The other agencies that need that information like DCFS and law enforcement, they will monitor the interview on the other side of the wall. Our interviewer has an earpiece. Any questions that they need for their reports, he can ask that. So, we reduce the trauma for our children and they're only interviewed one time," explained Kirstine Russell, Lafourche Parish District Attorney and the Director of the Children's Advocacy Center of Lafourche.
"It's about the children and reducing the trauma of these interviews … the purpose of this center is no other than reducing trauma for children," Russell said.
"If children made an allegation to their teacher, their teacher interviewed them, maybe a guidance counselor, law enforcement took them to their agency, DCFS took them to their agency, then they went to see a doctor. You have a five-year-old maybe telling their story six times. It would be traumatic for us … I can't imagine for a five-year-old," Kristine stated. 
The CAC offers a safe and friendly environment that includes a waiting area that portrays a pleasant mural.
"There needs to be an environment that allows them to be safe where they can share their story and they have adults there ready to protect them," Kristine said.
The facility advocates for a child's overall well-being and justice needs.  
"Once a month there are multi-disciplinary team meetings called MDT's. So, anybody involved in these cases come to these confidential meetings; law enforcement, schools, CASA, the DA's office, and they staff the cases. The purpose of the staffing is that all services are being provided for that child. All agencies come together to make sure the child is getting what they need and any prosecution questions, etc. What we've seen, because of centers like this, there is more effective prosecution," Russell explained.
The Children's Advocacy Center wants to lessen immediate trauma and minimize mental wounds. Thus, the Center can now house counselors to mend minds.   
"Our goal is they'll go into that interview, but then here, we can also provide counseling to them and the families and help them transition back in and hopefully do some healing," Kristine said with compassion.
"Now we're continuing to raise the funds to at least contract with a counselor. So, we're moving in that direction. Before we didn't have the ability to because we didn't have the space. Now we have the space," she added.
The CAC is non-profit and fully relies on generous donations.
The Street Survivors are a riding brigade on a mission to help fund the battle to weaken trauma upon children. They were present at the ribbon cutting and ready to present a check for this important initiative.  
Mike Boudreaux, Club President, and Jason Ordoyne, Sergeant in Arms, and other members of the Street Survivors are eager benefactors. They conduct raffles, etc. to donate to different charities and donate freely to the Children's Advocacy Center annually.  
"That's what we do, and we'll keep doing it, too," Mike stated.
"What they're doing with the children, we have to help, it's in our nature," Jason added.   
The CAC is full of helpful hearts ready to support a child in their most vulnerable time.
Shannan Gros helps with daily operations of the building and conducts forensic interviews with the children. He has been with the center since 2006 and has managed about 2,500 interviews.
"I love it," Gros said.
Shannan deeply cares about guiding children through the pivotal process of interviewing. Stories of hurt has bonded him to the children at the Center and more deeply to his children at home.   
"You get to hear the stories of things that these kids go through, and it makes you go home and love your own kids," Shannan said somberly.
The focus for the Children's Advocacy Center is to carefully guide children through the process and offer a home-like atmosphere that helps dilute trauma with peaceful assistance.
"I think it's great because for ten years at the other center we talked about the expansion over, over, and over again, that we we're ready for it. The numbers were there but, the numbers have increased over the last couple of years and really put us to a point where we needed to do it. This is great, it gives us more prior to downtown. So, we were in the public eye a little more, this is so much more secluded for when the kids come, the parking, the area … it's more child-friendly," Gros explained.
"We're blessed to have it. People always wonder do you have a problem here. Since we've opened our doors in 2005/2006 over 2,000 interviews have been conducted here. Since 2017 over 200 interviews a year," Kristine stated.