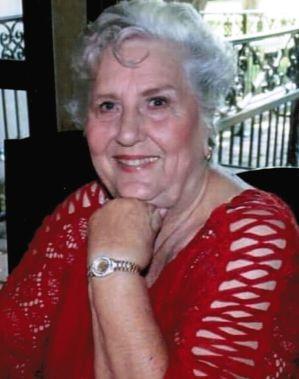 Bobbie Sue LeBlanc Dantin, 77, of Larose, LA moved on June 27, 2020 at 8:53 p.m. in Thibodaux, LA. Bobbie Sue was born Sept. 29, 1942.
Visitation will be held at Falgout Funeral Home, in Galliano, on Thursday, July 2nd from 8:30 a.m. until 10:30 a.m.. Mass will be celebrated at Sacred Heart Catholic Church at 11 am with burial to be held in the church cemetery.
Bobbie Sue is survived by three daughters, Lestica Dantin Todd (David), Maria Dantin Eymard (Robbie), Mitzie Dantin Bilello (Craig); son, Archie A. Dantin Jr (Lea Anne); ten grandchildren, Loren Todd Lyon (Jon), Ross Todd, Marion Todd (Jimmy), Robey Eymard Guidry (Patrick), Brook Eymard (Sydney), Marcel Eymard, Luke Dantin (Reneé), Andreá Dantin, Sal Bilello, Rayia Bilello; one great grandchild, Parker Guidry; twelve nieces and nephews. Bobbie Sue leaves her sister, Frances Jane LeBlanc Waguespack (Michael).
She is preceded in death by her spouse, Archie A. Dantin, Sr.; parents, Francis and Eleanor Pitre LeBlanc; and two sisters, Evelyn LeBlanc Bourgeois, Anna Lee LeBlanc Eymard.
Bobbie Sue will be fondly remembered as a fun loving person, who put things into prospective God, family and friends. She loved to be surrounded by friends. She was a constant source of jokes and laughter and she relished in feeding her guests. She was always the most welcoming host accepting anyone into her home with geniune warmth. Her strength and independance was inspirational and she was a great resource for shrewed and honest advice. Her quick wit and zest for life kept everyone on their toes. She is deeply loved and will be surely missed.
Services by Falgout Funeral Home Galliano.