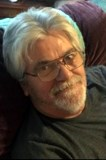 Edward "Ed" Anthony Matherne, Sr. January 17, 1957 - March 25, 2021 Edward Anthony Matherne, Sr.,age 64, a native of Galliano, La and a resident of Berwick, La , was called to his Heavenly home on March 25, 2021 at Ochsner Medical Center in New Orleans, La. 
Ed was born January 17, 1957 to Early and Irene Matherne in Galliano, LA. Edward (Ed), enjoyed playing drums, building furniture, golfing, fishing, and watching Sunday night football; however, spending time with his grandchildren gave Ed his greatest joy. Edward is survived by his wife of 26 years, Diane LeMaire Matherne; four children, Edward Matherne Jr., Lindsay Kiffe, with fiancé Dale Tompkins, Jordan Dupre and wife Cynthia, Karlie Matherne, with fiancé Travis Duhon; two brothers, Ernest Matherne and wife Laurie and David Matherne and wife Jean; one sister, Louella Doucet and husband Jimmy and grandchildren; Maddox (14), Mason (13), Aiden (12), Kevin (11), Alyssa (9), Alice (8), Eddie(6), Ben (4) and Parker (2). 
Edward is proceeded in death by his parents, Early and Irene Matherne; one sister, Claudette and her husband Alvin Hebert. Honorary pallbearers are Jordan Dupre, Travis Duhon, Dale Tompkins, Ernest Matherne, David Matherne, Rodney (Bo) Fabre, Clayton Horschel, and Mike Jeeter. Edward's (Ed's), family offers special thanks to everyone that prayed for him and his family, and to Dr. Bill Cefalu Jr., Dr. Thomas Morel, and the medical team at Ochsner in New Orleans. Memorial Service for Edward will be held April 6, 2021 from 1pm - 4pm at Hargrave Funeral Home.