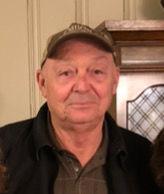 Floyd A. Cheramie, 66, a native and resident of Golden Meadow, La., passed away on Sunday, May 10, 2020.
A private service will be held at Our Lady of Prompt Succor Cemetery due to Covid-19.
Floyd is survived by his mother, Rose R. Cheramie; brother, Dean (Helen) Cheramie; sisters, Susan Martin and Lena (Donald) Duet; many nieces, nephews and godchildren.
Floyd was preceded in death by his father, Florenz "Brod" Cheramie; grandparents, Edgar and Lydia Rogers, Walter, Sr. and Alphonsine Cheramie; and brother-in-law, James Martin.
Floyd was a simple man and everyone who knew him loved him. He will be sadly missed by his family and friends.
Falgout Funeral Homes, L.L.C. entrusted with funeral arrangements.