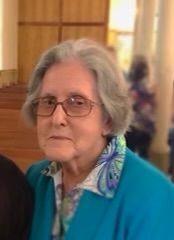 Sally Curole Champagne, 88 a native and resident of Galliano, La. gained her angel wings on December 2, 2020 with her loving family at her side.
Visitation will be Monday, December 7, 2020 at Samart-Mothe Funeral Home from 9:00 a.m. until 10:30 a.m. A Mass of Christian Burial will be celebrated at 11:00 a.m. at Our Lady of Prompt Succor Catholic Church with burial at Sacred Heart Catholic Cemetery.
Sally is survived by daughter, Mona Champagne; son, Roy "Chuck" Champagne, Jr.; grandson, Zac (Angelle L.) Cheramie; great-grandchildren, Hayden and Pierce Cheramie.
Sally was preceded in death by her husband of 61 years, Roy A. Champagne, Sr.; parents, Noah P. and Elesia Terrebonne Curole; brother, Felix Curole; and sisters, Nellie, Mary and Helen Curole.
Sally was a member of the choir at Our Lady of Prompt Succor Catholic Church, a rosary leader, member of the Ladies of LaSallette, Eucharist minister, and President of the Ladies Auxiliary American Legion unit 259.
In lieu of flowers donations to Holy Rosary Catholic School.