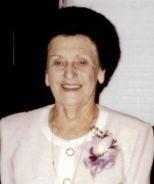 Sedonia Duet, 95, a native of Golden Meadow and resident of Galliano, passed away on Saturday, November 20, 2021.
Visitation will be held at St. Joseph Catholic Church on Tuesday, November 23rd from 9:00 a.m. until funeral time. A Mass of Christian Burial will be celebrated at 11:00 a.m. with burial to follow in Cheramie Cemetery.
She is survived by her son, Lanny (Verley) Duet and Richard J. (Dianna) Duet; 5 grandchildren; 6 great-grandchildren and 4 great-great-grandchildren.
She was preceded in death by her husband, Ivey Anthony Duet; parents, Ludwig and Donatile Johnfroe; 3 brothers; and 4 sisters.
Falgout Funeral Home entrusted with arrangements.