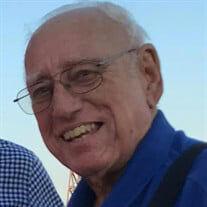 Wiltz A. Picou, Jr., age 90, a resident of Franklinton passed away Sunday May 8, 2022. He was a native of Cut Off, LA but had moved with his wife to Franklinton in 2007. Wiltz was retired after a long career as an electrician with Penrod Drilling Company. He was a United States Air Force veteran during the Korean War Era. Wiltz enjoyed working around his home and in his garage and he attended Bethel Baptist Church near his home.
Mr. Picou is survived by, 3 Sons and Daughters in law, Wiltz Picou, III and Janet Picou of Franklinton, Mark and Paula Picou of Hammond, and Steven and Tamara Picou of Lafayette; 10 Grandchildren and Spouses, Ryan and Rebecca Picou, Alex and Josh Torres, Cody and Kellie Williams, Shay Picou and Tyrell Showalter, Megan and Robbie Bordelon, Dustin Mason, Dante' and Niki Picou, Marianna Picou, Mason and Madison Picou, and Olivia Picou; 7 Great grandchildren, Natylee Williams, Knox Showalter, Jonathan Picou, Grant Picou, Everett Williams, Logan Torres, and Violet Bordelon; Brother and Sister in law, Franklin and Joanne Picou; Sisters, Loretta Duet and Emily Picou; and also numerous nieces, nephews and other family members.
He was preceded in death by his wife, Nellie Glynn Fisher Picou; parents, Wiltz A. Picou, Sr. and Liza Terrebonne Picou; brother, Mack Picou; and other family members.
Visitation will be at Crain Funeral Home (1109 Bene Street, Franklinton, LA) on Wednesday, May 11th from 9:00 a.m. until 11:00 a.m. A funeral service will be held in the funeral home chapel at 11:00 a.m. Wednesday with Bro. Duane Ball officiating. Burial will follow in the Bethel Baptist Church Cemetery.
Pallbearers are Wiltz Picou, III, Mark Picou, Steven Picou, Ryan Picou, Dante' Picou, Josh Torres.