With rebuilding efforts steady and electricity slowly coming back on for the community, most Lafourche Parish residents are settling into the new normal that is life after Hurricane Ida's devastation.
But for one community just off the Intracoastal Waterway in Larose, their post-Ida attempts to find a slice of normalcy are stud in mud — literally.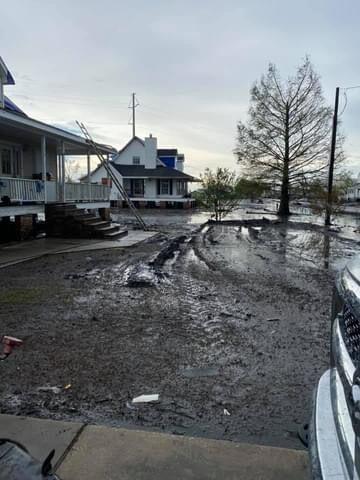 Residents in the area of Buchanan and Chester Lee Streets in northern Larose are asking for answers after Ida's storm surge overtopped levees. The waters have since receded but what hasn't are tons of ooey, slushy mud, which has been left everywhere.
The mud, officials say, is from the bottom of the Intracoastal or is mud from surrounding areas washed into the neighborhood when Ida's surge hit. But its presence is a major nuisance to residents in the neighborhood because of its texture (it's not easily moved) and its smell, which residents say is nauseating.
"We can't get it out of the ditches. We can't get it out of the yard. It's just not going anywhere," said Brittney Elliott Serigny, a resident of the neighborhood. "And it smells like a pig pen — just like a pig pen. … It's not safe to be around. Just the thought of it, it just gags you."
"I didn't feel good when I was cleaning in it," added Chloe Cortez, another resident. "My throat was burning. My daughter had a headache, and she was itching and had a rash. We have to get answers. What am I supposed to do? We can't live here. I can't just let my daughter have a rash and a headache every day."
A NEW KIND OF FLOODING
The Buchanan/Chester Lee Street area is not new to flooding.
It's a relatively low-lying area, and residents all say that they are used to ditches being unable to keep up with strong, stiff rains, which sometimes causes street flooding or water even as much as ankle-high to pond in the streets, which are far lower than the build up slabs for the homes.
But Ida was a different beast.
Shane Richoux has lived in that area since 1975 and he stayed for the storm.
He said in all of his life living in the area, he's never seen the water get as high as it did for Ida.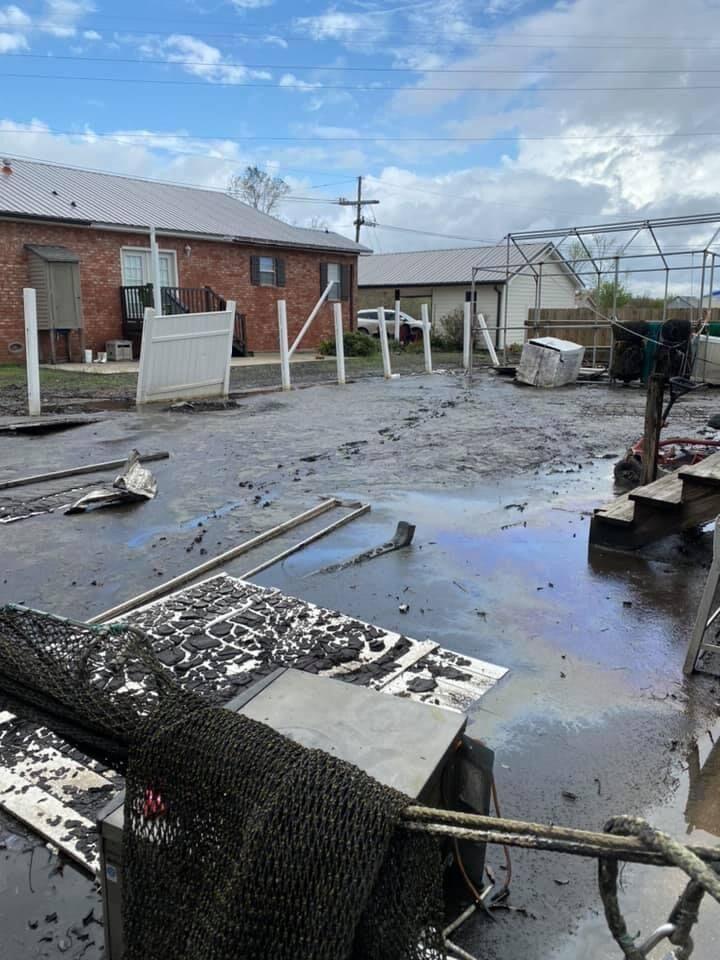 Toward the back of the streets, there were 8-10 feet of water in some spots.
Other locals who rode out the storm say that the waters rose quickly — as much as 5 or 6 feet of a rise in 30 minutes.
Richoux said around 11:30 p.m., he started getting calls of people in the neighborhood who were stranded and who needed a way out. He got into his boat and started rescuing a few locals who were in danger of being overtopped by the quickly rising waters.
"It's just what we do," Richoux said. "It's what we do as a Cajun people — you help your neighbor out."
Residents of the community said they have struggled to get answers about why waters from Ida were so much higher than other storms locally (Katrina, Rita, Gustav, Ike, Zeta, etc), and those questions led to speculation about the levees possibly breaking in that area.
But Lafourche Parish President Archie Chaisson said that the levees held, but were simply overtopped.
Hurricane Ida took a worst case scenario path for lower Lafourche — a high-end, slow-moving Category 4 storm that made landfall just to our west.
Ida was worse than other storms because it took a path that was worse for our area than other storms.
"We took about a 10-12-foot storm surge across Delta Farms and it topped the levee," Chaisson said. "No where in Lafourche Parish — in the south or north Lafourche systems did we have a levee break. Some were overtopped, but we did not have a break."
BUT THE MUD STAYS
The waters from Ida rose quick, then eventually receded. But the marsh mud that rose with it is still caked into the neighborhood today — now many weeks later.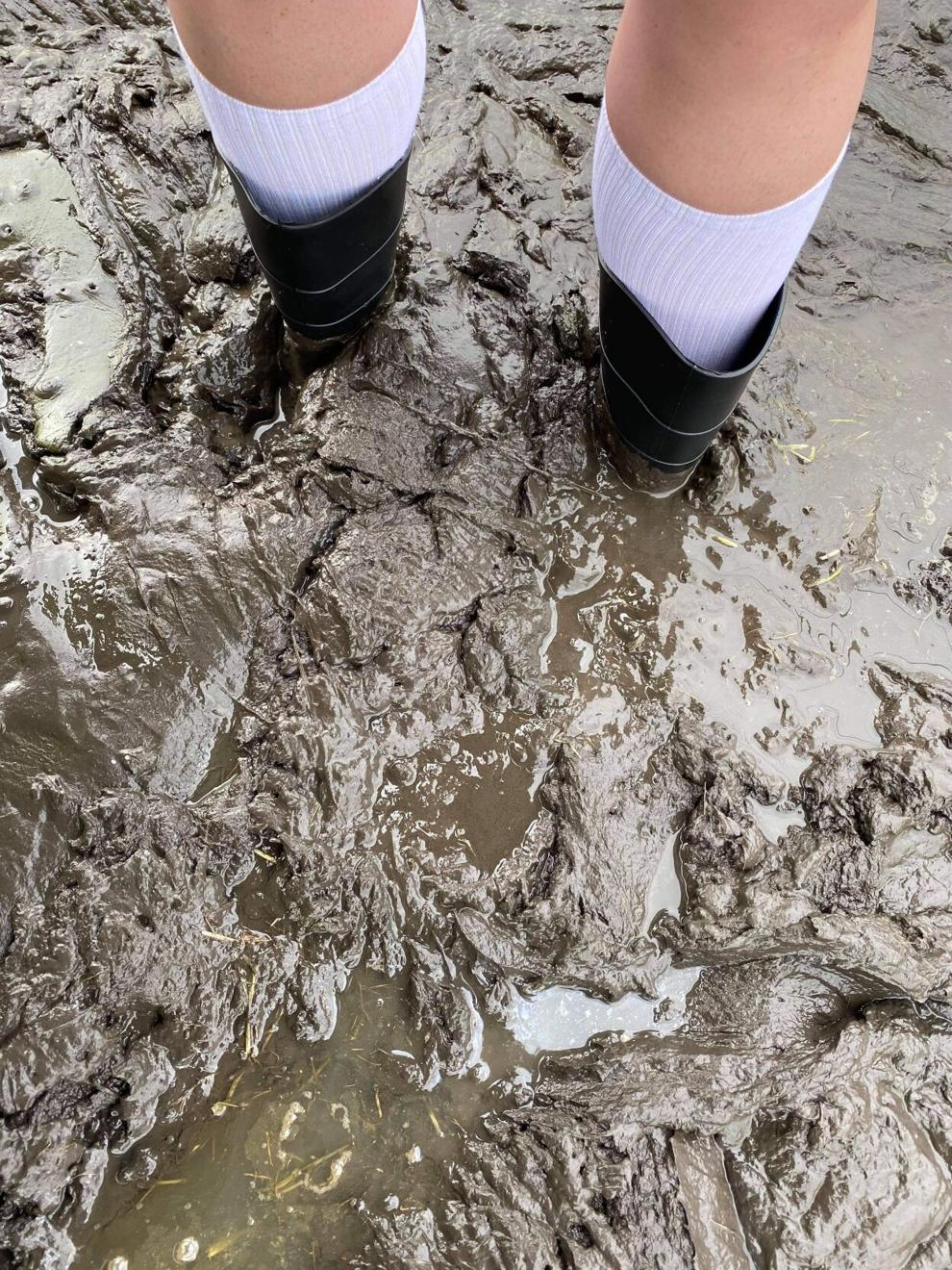 Resident Melissa Eymard said the mud is "so frustrating" and that she is "exhausted" from having to deal with it when trying to clean.
The mud has a different texture than regular backyard mud. It can be moved, but as easily as it is put in one spot, it trickles right back where it came from, which makes clean-up an endless task.
"We're all exhausted and discouraged," Eymard said. "People keep saying, 'Oh, I can't wait until we get power,' and I'm over here thinking in the back of my mind that even if we got power, it wouldn't do anything to make this better. … It's pretty much a hopeless situation."
Residents have pondered ways to remove the mud, but none of the ideas are feasible.
To bulldoze it all out would be too expensive with price tags in the tens of thousands. And it would only work if every, single resident did it. For example, if one person cleared out their yard with a dozer, but their neighbor next door didn't, then the next time it rained, the mud would loosen, drip and cover the freshly bulldozed yard, leaving the resident at square 1 again.
Cortez and others have said they're unsure if insurance would cover those expenses. An adjuster told her that this is a problem he's never seen in decades of work.
Then the next issue is the smell.
Richoux said the mud that moved into the neighborhood is marsh mud — he's seen it his whole life. To those locally, that is "Boo-Podee" mud.
That mud does not have a pleasant smell even when pure. But after days of settling, the mud has rotted, and it now has an oil sheen (from vehicles, lawn mowers and other things), manure and whatever else atop it.
"It's terrible," said Corey Serigny. "It's like a pig pen. There's oil on it. It's bubbling. It's horrible."
Folks in the neighborhood said they believe the mud is hazardous, and some told The Gazette they hope to have testing done to confirm that.
Chaisson said no testing has been done by the parish to confirm or deny those claims.
"We don't know one way or another," he said.
He said the mud stinks because it is organic material that is now decomposing. 
A lot of residents have moved out of the area since the storm, calling conditions in the area unlivable — either due to damages to their homes, flooding or the sheer presence of the mud, itself.
Mail and garbage services have not yet returned because they cannot pass through the mud. Locals with animals are unable to bring them outside to use the restroom.
And something as simple as walking from the front door to the carport and back could cause a mess that will take hours to clean because of the mud you will track.
"You walk outside and you're in mud so thick that it's to your ankles as soon as you put your foot down," Eymard said. "It's disgusting. We can't live back here. We're about to start school. How will a bus get back here? How will a kid walk from the bus to his house? There's just so many unanswered questions. We just don't know the answers yet."
EFFORTS UNDERWAY TO HELP REMEDY THE SITUATION
Residents say they are frustrated with parish efforts to remedy the situation, but they understand the uniqueness of the challenge. 
Chaisson said he understands the frustrations, but wants the residents to know that work will not stop until the mud is gone and life is back to normal.
The parish tried using dump trucks, but the mud is so mucky that it just leaks out of the trucks once it's loaded into them.
So the next plan are vacuum trucks to suck the mud out of the neighborhood. Those trucks have had limited success because rains in the past few weeks have affected work.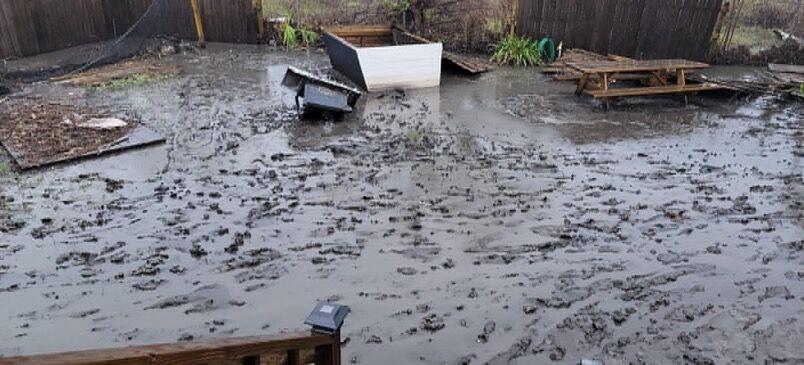 "OK, so we clear a ditch, right?" Chaisson said. "But there's 8 inches of mud in the yard. So as soon as it rains, that mud flows right back into the ditch again. The rains have not helped us."
Chaisson said vacuum trucks will remain in the area for the next several days, and he hopes that forecasted dry weather will help work be uninterrupted. Chaisson said he's also ordered hydro jet trucks to report to the area in the coming days. Those trucks are more efficient and more powerful and should do work faster.
"We're not going to stop," Chaisson said. "We're going to help these people as long as they need us. Those hydro-jet trucks should let them start to see some progress." 
Chaisson said he's also working with the District Attorney's Office about getting land access to residents' property in the area, which would allow parish workers to go onto residents' property to suck out the mud.
Currently, parish workers are only able to work in streets, ditches and other parish property.
Residents say they would welcome parish workers onto their land and many even said they would sign waivers if they had to in order to get parish trucks to help out.
Chaisson said he is waiting for an official opinion from the DA's office, but that he is "hopeful" that he will be allowed to work on public-owned property.
When asked how residents can help, Chaisson said he wants locals to push as much of the mud as they can towards their ditches. Doing so will make work easier for parish employees.
"The closer a resident can get the mud to the ditch, the quicker it will be for us all because I won't have to go into your yard to take it out," Chaisson said. "And that also means I won't roll over anything in your yard and maybe break it, which would cause us other problems."
Most residents who spoke to The Gazette said they while they may be frustrated, they don't want to be painted as being overly critical of the parish workers, and they know they are doing the best they can.
Others say that they think the parish just doesn't have a handle on the problem because no one has ever seen anything like this before.
"We've dealt with flooding before," Cortez said. "But nothing like this. This is like a flood, and it's almost now like an oil spill, too. We need someone to come in and clear this out for us." 
A Facebook group has posted a lot of the community's plight, and their goal is to raise awareness to their problem.
"We just want to get this fixed and see what we can do to try and make sure it doesn't happen again next time," Brittney Serigny said. "Because there probably will be a next time."
"We know the parish president is doing what he can. We understand that," Cortez said. "But we're just worried about our safety. We're worried about if we can ever get our lives back to normal back here."
Some in the area have already posted their houses for sale, saying they do not want to deal with the issues the neighborhood has.
Others, like Richoux, said he "isn't going anywhere."
"I've never left. I'm not going to leave," he said.
Chaisson said he is expecting to receive Federal money in Ida's aftermath, and he hopes to plan to use some of that money to help remedy the issues this area faces.
He said he will discuss making their levees higher and the "any other option to improve the situation" is on the table.
And in the meantime, work will be ongoing and continuous until the mud is cleared.
"I understand the frustration. I've been back there. I've talked to a few of them," Chaisson said. "But I just ask for their patience. We're throwing as much of our resources as we can to get it cleaned up as fast as we can. I don't expect them to be happy with the situation or with me, to be honest. But I ask for their patience and I want them to know that we will be there until we are finished cleaning it all up. It's going to be a process. But we're not going to give up."